As a member of Squad 8 in East Hampton Volunteer Ocean Rescue, and a member of the Public Relations Committee, I took part in helping to issue a warning about swimming safely at the ocean beaches this summer.
The press release is informative, and so I decided to put it on my blog for people to read.
Have a safe summer filled with beautiful memories!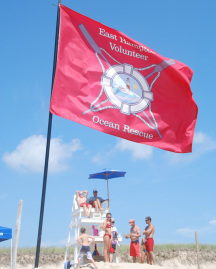 East Hampton Volunteer Ocean Rescue
National Beach Safety Week
Press-Release – June 7 – 14, 2015
Chief Ed Reid, and Assistant Chief Mike Forst, along with all members of East Hampton Volunteer Ocean Rescue, would like to announce that National Beach Safety Week begins Sunday, June 7th and ends the following Sunday, June 14th.

Our waters can be a wonderful recreational resource, but they can also be treacherous. Lifeguards are provided in an effort to reduce the number of accidents at our local beaches, but we cannot do the job alone. An informed public is essential to maintaining adequate levels of beach and water safety. The objective of National Beach Safety Week is to make citizens aware of the need to be safe while in and near the water with special emphasis on the hazards associated with Rip Currents.
This objective stresses the following:
Learn to Swim – Promote the YMCA and the Junior Lifeguard Program.
Swim Near a Lifeguard.
Swim with a Buddy.
Check with the Lifeguards on daily conditions.
Obey Posted Signs and Flags – And know your location for 911 calls.
Keep the Beach and Water Clean – What you pack in, pack out!
Learn Rip Current Safety.
Enter Water Feet First.
Wear a Life Jacket when appropriate or mandated.
Use Sunscreen and Drink Water.
The United States Lifesaving Association (USLA), a national non-profit organization, and your local chapter, Hampton Lifeguard Association (HLA), are dedicated to improving beach safety in America. Our membership includes professional beach lifeguards in this area, joining lifeguards from across the country. Thank you for considering this request. Your support will help make our beaches a safer place for residents and tourists alike.
You can spot a rip current by the line of foam making a mushroom cloud in the surf. Rips can sweep even the strongest swimmer out to sea. If you find yourself caught in a rip current relax and use your head. Don't panic. Don't fight the current. Swim parallel to the shore line and then head towards the beach.  If you can't escape, float or tread water, and call or wave for help.
Check out the website of East Hampton Volunteer Ocean Rescue at: http://www.easthamptonoceanrescue.org
Sincerely,
EHVOR Public Relations Committee