Author's Biography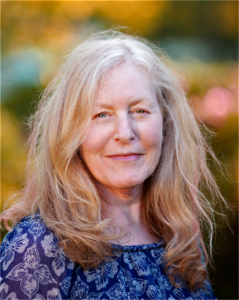 Helene Forst, the oldest of three girls, was born in New York City on September 9, 1951. She was born into a clan of redheads, a unique tribe of sun-sensitive, freckled skinned folks. "I remember the time my family won free tickets to the premier showing of West Side Story. The contest my mother entered, had offered free tickets to any family with five or more redheads living under one roof. We'd hit the jackpot! On the day of the showing, we piled into my dad's yellow Chrysler convertible, my parents in the front seat, my sisters and I in the back. Everyone, except for my dad, wore a different colored scarf that tied under our chins; it was the only way we'd be able to control our thick, frizzy red hair from going wild in the wind. With the convertible top down, my dad beaming with pride, we drove to the Syosset Movie Theatre and parked directly in front of the theater's grand old doors. I remember how embarrassed I felt as my sisters and I marched behind my parents to claim our tickets, our red hair sticking out every which way from under our disheveled scarves. We looked ridiculous. I was relieved and grateful that I hadn't run into anyone I knew from school."
The first five years of her life were spent romping the beaches in Seagate, Brooklyn, living next door to her grandma and grandpa, wading in tidal pools searching for crabs; collecting shells and treasures that floated up on the shores of Beach 44th Street; and falling asleep under the stars as she listened to the soothing sounds of her mom and dad and their friends talking and laughing, the waves crashing, and the fire crackling around the evening campfires they'd build on the weekends.
The summer before kindergarten, Helene's family moved to Roslyn, New York. She spent the rest of her childhood and teen years attending public school, studying modern dance, and learning to play the guitar. She was a Girl Scout until she was sixteen years old. She didn't learn to read until she was in the fourth grade; but when she finally mastered the code, she became a voracious reader. "One of my fondest memories from this time was when I'd hang out at the Bryant Library in Roslyn Village; I'd bring my lunch, and relax among the thousands of books and magazines in the children's room; then I'd go down and feed the ducks at the duck pond; and if I felt really adventurous, I'd venture down the block and around the corner and head straight for the deli.They had the best candy selection ever; then I'd walk back to the library, and call my mom to pick me up. Those were great days."
During her junior year in high school, Helene met her soul mate, Jack Forst. It was love at first sight. In 1969, Helene graduated high school and headed up to Leslie College to study teaching. The two missed each other so much, that Helene returned to Long Island, where she attended The State University of New York at Stony Brook to earn a Bachelor of Arts degree in Education.
At the young age of nineteen, Helene and Jack married. Jack went to work for Helene's Dad, a Long Island builder. Helene graduated Magna Cum Laude, receiving teaching certifications in pre-school, kindergarten, and grades one through six. Two years later, she gave birth to her son, Michael. She attended The State University of New York at Stony Brook once again, where she received a Masters in Liberal Arts. She graduated Summa Cum Laude with an additional teaching certification in secondary English.
She was offered a high school teaching position in Patchogue, New York, but declined, in favor of a once-in-a-lifetime, cross-country road trip with her husband, Jack, her three year old son, Michael, their black Labrador Retriever, Raisin, and their trusty jeep. They visited communes and intentional communities, and explored the wonders of the country, as they camped and tented across the mountains and plains and forests of America. They spent a month at Esalen, a new-age educational center, that was nestled on the mystical coast of Big Sur, California. It was there that her spiritual quest began. The animated spirit of Esalen exposed her to different ideas and realities that were beyond the constraints of the norms of society. "This was an eye opening experience, an unexpected fork in the road, an adventure that would change my life forever. The people I met, and the philosophies they shared, were liberating. For the first time in my life, I began to understand the interconnectedness between all living things."
Her young family settled in Eugene, Oregon, where she taught a combined second/third grade class in a private country day school. At the end of the school year, her family decided to return to Long Island, settling in East Hampton, New York, where she still lives today.
Upon returning to Long Island, Helene worked with her husband, Jack, creating a family owned, custom building organization. It was during this time period that she gave birth to her second son, Ben. For Michael, she organized a 4-H club that remained active for five years. Her free time was devoted to environmental activism.
During the eighties, Long Island was facing a serious threat from a local utility company who wanted to build and operate a nuclear power plant in Shoreham, New York. Helene believed that the operation of this plant was a catastrophe waiting to happen. She volunteered to co-chair The East End Shoreham Opponents, a group of local, concerned citizens who understood the dangers inherent in the nuclear industry. "The core group of people who ran The East End Shoreham Opponents was such a remarkable group of people. We worked together like a well-greased machine. When one of us didn't feel well, the others picked up the slack. We met regularly and became good friends. We worked long hours to close a dangerous nuclear facility; I will always remember our group and its ability to affect change." After many years of marching, and sit-ins, and petitions, and rallies, and speeches before the Nuclear Regulatory Commission and the Public Service Commission, it was determined that the Shoreham Nuclear Power Plant would be decommissioned, dismantled, and ultimately entombed, due to the fact that there was no safe evacuation for the three million people that lived on the island. Yea, for the small group of committed citizens who volunteered many hours organizing the majority voice of the people of Long Island. It was a victory for the people; it was a victory for the environment. In 2000, Senator Kenneth LaValle, nominated Helene for the Woman of Distinction Award that acknowledged her noteworthy achievements in the fight to close the Shoreham Nuclear Power Plant.
Fast forward a few years. Helene graduated Summa Cum Laude, with a Masters in Science for Special Education. It was at this time, she earned two more New York State teaching certifications, one in Special Education, and the other in Reading. During all these years, Helene continued her private teaching practice and her participation in environmental activism. She was invited to participate in the East End Lyme Disease Task Force where she worked with legislators and local physicians to educated and inform people about Lyme Disease.
In the nineties, she opened up the first Long Island private school for dyslexic students in Bridgehampton, New York; it was modeled after The Landmark School in Prides Crossing, Massachusetts. The school remained opened for two years, but due to lack of funding, its doors sadly closed. Helene continued teaching in both the public and private sectors; she was a middle school English teacher, an elementary classroom teacher, and a middle school academic intervention reading specialist. Her private practice expanded as her reputation grew. "I remember the day when one of my student's parents had referred to me as 'a reading whisperer.' I was honored." Her multi-sensory, structured, language-based reading program worked. "All of my students learn to read and discover that books are friends. How awesome is that?"
She was invited to chair the environmental committee for The East End Cancer Task Force, a group of people who were curious as to the cause of an outbreak of teen cancers in the East Hampton school district. She worked with a group of local citizens, educators, physicians, and the director of the Natural Resources Department, investigating the unusual cluster of cancers.
In 2009, Helene brought Earth Hour to East Hampton. She gathered a group of concerned friends who worked together to make the public aware of the worldwide event. She visited schools and challenged local students and their families to participate in the World Wildlife Fund Initiative. She worked with one particular student who became the first East End Earth Hour Kid Ambassador for both the town and the village of East Hampton. He prepared and delivered presentations to the town board and the village board, requesting their participation in the World Wildlife Fund Initiative, Earth Hour. Both governmental agencies adopted a proclamation stating that all none essential lights during the one designated Earth Hour would be shut off in both the village and the town. Millions of people worldwide participated in the WWF initiative. It was an exciting time; the main lessons to be learned were that every hour should be Earth Hour; and that people needed to become committed stewards of our precious planet earth.
In 2013, Helene founded Long Island Businesses For Responsible Energy, Inc, (LIBFRE), a not-for-profit organization with the mission to ensure that the future of Long Island utilities focus on safe, sustainable, and responsible energy infrastructure while supporting an energy upgrade that preserves the health, safety, environment, property values, historic sites, and scenic vistas of the unique area that encompasses the town of East Hampton.
Fast-forward once again to the present. Helene enjoys working in her organic garden, making strawberry jam, canoeing in Georgica Pond, and hiking and canoeing in the St. Regis wilderness area of the northern part of the Adirondack Mountains. She loves teaching, and reading, and hanging out with her grandchildren. "I love the game of basketball and I'm an avid Knicks fan dating way back to the sixties when Walt Frasier and Willis Reed played ball."
For years, she's enjoyed writing, filling notebook after notebook with her poems and tales. Her first published young adult novel was, The Journey of Hannah Woods (pub. 2012), a story about a fourteen-year old girl who is scarred by abuse and neglect. It is the story of Hannah's recovery from prescription drug addiction, as she learns to maneuver through the challenges of adolescence with the help of her hippie grandparents, Hollis and Pearl Woods, and the help of a remarkable therapist, Dr. Katherine Hope.
Helene has finished working on her second YA novel, Stoked – 1969, a historical fiction, coming-of-age YA novel, about Jake Edwards, a fourteen-year-old boy, who struggles with dyslexia and his inability to learn how to read; the backdrop of the story is the growing opposition to the Vietnam War, exploring issues of patriotism, loyalty, and what it means to stand up for your beliefs.
Helene is a member of: The Academy of Orton-Gillingham Practitioners and Educators, The International Dyslexia Association, The International Council of Teachers of English, The International Reading Association, The American library Association, Educators for Social Responsibility, NYSUT, Surfrider Association, and Lieutenant of Squad 8 in East Hampton Volunteer Ocean Rescue.
"I've grown into a teacher who believes that children have a right to receive a safe and appropriate education. I look forward to many more years of teaching and opening up windows to learning for my students. With that said, I further hope that through my stories, I will inspire readers to achieve their highest ideals as they travel the journeys of my imagined heroes. In my writings, I've chosen to deal with difficult topics that affect both adolescents and adults, in a style that is both sensitive and full of essential life lessons, always focusing on some aspect of the environment that needs our attention. It is my wish that my books will offer companionship, enjoyment, comfort, and guidance; and maybe, just maybe, the reader will learn something new, something that they can use in their life that will bring light and love and happiness into their world."